Fundamentally, handshaking is a sign of courtesy. This custom started in medieval times. The history of the handshake dates back to the 5th century B.C. in Greece but its origins are somewhat murky. Many believe that it began as a symbol of peace, good faith when making an oath or promise and showing that neither person was carrying a weapon. Some even suggest that the up-and-down motion of the handshake was supposed to dislodge any knives or daggers that might be hidden up a sleeve.
Handshakes basically are a form of nonverbal communication.
Much like sniffing, both parties in a handshake are exchanging sensory information about each other. Some people will try to portray certain qualities in a handshake or show their dominance.
There is a societal expectation or pressure that has been created where people feel obligated to accept someone's handshake.
If you decline or ignore the handshake — the other party may take a defensive stance, feel as if it was a snub, think you're an awkward person, they may also think you are a germ phobic or that your are just being rude. This can also leave an unfriendly first impression due to the response of denying the handshake conveyed.
This kind of pressure has simply created an extra unnecessary ongoing source of stress for myself over the years.
My main reason for declining something as simple as a handshake is more than just mere germs or to see who has a dominate firm grip.
It's Spiritual attachments or possessions. People who are aware that there are other things in this world that are "preying", planting and trying to seduce.
These non-crossed over spirits human or not, will attach themselves to your energy field for the purpose of using your energy and or manipulating your behavior to serve themselves.
Some spirit attachments can actually be friendly, lost individuals who have inadvertently attached themselves as a means to get energy, not realizing it is actually harmful, but others can attach maliciously and intentionally harmful. Spiritual attachment or possession can affect people in many different ways.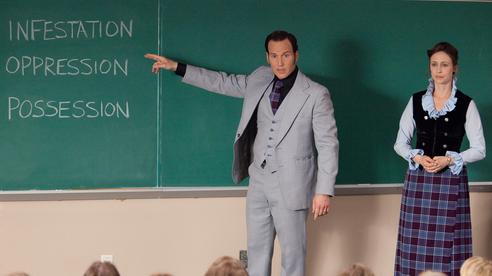 When a person, a human being, freely chooses to be possessed completely by a demon or Satan himself, forever.
The ties to God the Father, God the Son and God the Holy Spirit are completely severed and cannot be repaired.
It is not often that a person who has passed through the three stages of possession chooses perfect possession.
It is more common that a person who chooses perfect possession has either become a practicing Satanist or has made the decision with their own free will prior to the possession.

They may want to choose it for wealth, power, influence or other reasons.
But they choose it and give their lives over completely at that time.
The Holy Spirit warns us not to get anywhere near that body occupied by Satan.
Once a person has completely given over to the Devil, he/she controls the perfectly possessed person's body, mind and soul, and 'lives' through them, controlling every minute of their life until they die. Only then is that person beyond god's help but don't fret there are sources to help those who want to be helped.
Here is a link to contact for help. I can't speak for their work but it is a beginning and I am not affiliated with them in no way.
PRIVATE PARANORMAL INVESTIGATORS GHOST INVESTIGATION TEAM
You may also email them @ enquiries@ghostinvestigationteam.uk
Disclaimer:
We offer this page content as information ONLY.
We (GITUK) and ( Thehyppothyroidismchick.com) will not be held responsible for death or injury, or increased activity, possession or any other type of unexplained activity that occurs to you or other persons or to your property you conduct the cleansing in. This page is for information only.
If you carry out a cleansing following the information contained in this page or theirs, you do so, ENTIRELEY, at your own risk.
We fully recommend that you do not cleanse your own home. Get reputable help from a reputable medium, or priest.
how to Smudge property and people
Crystals to Use for Protection
The method that causes me the least stress, by far, is to place my right hand over my heart and nod once while smiling. This gesture is simple and friendly, and it allows me to take charge of my side of the introduction by showing the other person how I am comfortable interacting. I've found that people who have extended a hand to shake mine are quick to "switch gears" (in the friendly sense!) when I set this example.
Before I began using the hand-over-heart gesture, people would often interpret my discomfort at shaking hands as many things. With the best of intentions, these people would then try to find some other innocent way to touch me in greeting: a fist bump, a touch to the arm, or even a hug! Since these forms of contact are as unpleasant to me as handshakes, they caused me to show similar tension in response, and I'm afraid that my reaction reaffirmed any unfriendly first impression that my response to the handshake conveyed.
Audrey Childers is a published author, blogger, freelance journalist and an entrepreneur with over a decade of experience in research and editorial writing. She is also the creator and founder of the website the hypothyroidismchick.com. Where you can find great tips on everyday living with hypothyroidism. She enjoys raising her children and being a voice for optimal human health and wellness. She is the published author of : A survivors cookbook guide to kicking hypothyroidism booty, Reset your Thyroid, The Ultimate guide to healing hypothyroidism and A survivors cookbook guide to kicking hypothyroidism booty: the slow cooker way. You can find all these books on Amazon. This blog may be re-posted freely with proper attribution, author bio, and this copyright statement.
Supporting Thehypothyroidismchick.com
As a independent blogger and freelance journalist, I fight for truth that holds power of knowledge that is just not optional but It is essential. Like many informational organizations, Thehypothyroidisimchick.com has been significantly impacted by the pandemic. I rely to an ever greater extent on our readers, both for the moral force to continue doing journalism at a time like this and for the financial strength to facilitate that reporting. I believe every one of us deserves equal access to fact-based news and analysis. I have decided to always keep Thehypothyroidismchick journalism free for all readers, regardless of where they live or what they can afford to pay. This is made possible thanks to the support we receive from readers across America and the world. As our business model comes under even greater pressure, we'd love your help so that we can carry on our essential work. If you can, support Thehypothyroidismchick.com from as little as $1 – and it only takes a minute. Thank you.
References:
SPIRITUAL ATTACHMENTS / POSSESSION
Disclaimer
The information and recipes contained in blog is based upon the research and the personal experiences of the author. It's for entertainment purposes only. Every attempt has been made to provide accurate, up to date and reliable information. No warranties of any kind are expressed or implied. Readers acknowledge that the author is not engaging in the rendering of legal, financial, medical or professional advice. By reading this blog, the reader agrees that under no circumstance the author is not responsible for any loss, direct or indirect, which are incurred by using this information contained within this blog. Including but not limited to errors, omissions or inaccuracies. This blog is not intended as replacements from what your health care provider has suggested. The author is not responsible for any adverse effects or consequences resulting from the use of any of the suggestions, preparations or procedures discussed in this blog. All matters pertaining to your health should be supervised by a health care professional. I am not a doctor, or a medical professional. This blog is designed for as an educational and entertainment tool only. Please always check with your health practitioner before taking any vitamins, supplements, or herbs, as they may have side-effects, especially when combined with medications, alcohol, or other vitamins or supplements. Knowledge is power, educate yourself and find the answer to your health care needs. Wisdom is a wonderful thing to seek. I hope this blog will teach and encourage you to take leaps in your life to educate yourself for a happier & healthier life. You have to take ownership of your health.
The views and services offered by Thehypothyroidismismchick.com are not intended to be a substitute for professional medical service, but as an alternative for those who are seeking solutions for better health. We do not claim to diagnose, treat, prevent, or cure any disease, but simply help you make physical and mental changes in your own body in order to help your body heal itself. Keep in mind that results may vary, and if you are pregnant, nursing, taking medications, or have a serious condition, you should consult a physician or other appropriate medical professional prior to using any products or information on this site. Thehypothyroidisimchick.com assumes no responsibility for the use or misuse of this material. Your use of this website indicates your agreement to these terms. Our full disclosure, terms of use, and privacy policy.
https://thehypothyroidismchick.com/2020/10/10/our-full-disclosure-terms-of-use-and-privacy-policy/