Witches were just women. The image of the witch was the demonized alewife.
She used a cauldron to brew health tinctures, teas and ales/beer. She was the original medicine woman and she kept everyone alive. She signified being open for service by putting a broom above the door to her house during a time many people couldn't read.
Hence the cauldron and broom becoming symbols of witchcraft during prohibition.
She was never even a witch at all. More like a doctor or a mother.
Women stopped dominating the beer industry when they were put do death as witches for knowing anything at all. Even how to swim. Let alone how to brew ale.
To understand the fuller context of this history, we encourage readers to also look at two blog posts from historian and archaeologist Christina Wade, linked here and here, and an essay by beer and spirits writer Tara Nurin, linked here, as recommended by the Smithsonian's own brewing historian, Theresa McCulla, curator of the American Brewing History Initiative at the National Museum of American History.
What do witches have to do with your favorite beer?
When I pose this question to students in my American literature and culture classes, I receive stunned silence or nervous laughs. The Sanderson sisters didn't chug down bottles of Sam Adams in "Hocus Pocus." But the history of beer points to a not-so-magical legacy of transatlantic slander and gender roles.
Up until the 1500s, brewing was primarily women's work—that is, until a smear campaign accused women brewers of being witches. Much of the iconography we associate with witches today, from the pointy hat to the broom, may have emerged from their connection to female brewers.
A routine household task
Humans have been drinking beer for almost 7,000 years, and the original brewers were women. From the Vikings to the Egyptians, women brewed beer both for religious ceremonies and to make a practical, calorie-rich beverage for the home.
In fact, the nun Hildegard von Bingen, who lived in modern-day Germany, famously wrote about hops in the 12th century and added the ingredient to her beer recipe.
From the Stone Age to the 1700s, ale – and, later, beer – was a household staple for most families in England and other parts of Europe. The drink was an inexpensive way to consume and preserve grains. For the working class, beer provided an important source of nutrients, full of carbohydrates and proteins. Because the beverage was such a common part of the average person's diet, fermenting was, for many women, one of their normal household tasks.
Some enterprising women took this household skill to the marketplace and began selling beer. Widows or unmarried women used their fermentation prowess to earn some extra money, while married women partnered with their husbands to run their beer business.
So if you traveled back in time to the Middle Ages or the Renaissance and went to a market in England, you'd probably see an oddly familiar sight: women wearing tall, pointy hats. In many instances, they'd be standing in front of big cauldrons.
But these women were no witches; they were brewers.
They wore the tall, pointy hats so that their customers could see them in the crowded marketplace. They transported their brew in cauldrons. And those who sold their beer out of stores had cats not as demon familiars, but to keep mice away from the grain. Some argue that iconography we associate with witches, from the pointy hat to the cauldron, originated from women working as master brewers.
Just as women were establishing their foothold in the beer markets of England, Ireland and the rest of Europe, the Reformation began. The fundamentalist religious movement, which originated in the early 16th century, preached stricter gender norms and condemned witchcraft.
Male brewers saw an opportunity. To reduce their competition in the beer trade, these men accused female brewers of being witches and using their cauldrons to brew up magic potions instead of booze.
Unfortunately, the rumors took hold.
Over time, it became more dangerous for women to practice brewing and sell beer because they could be misidentified as witches. At the time, being accused of witchcraft wasn't just a social faux pas; it could result in prosecution or a death sentence. Women accused of witchcraft were often ostracized in their communities, imprisoned or even killed.
Some men didn't really believe that the women brewers were witches. However, many did believe that women shouldn't be spending their time making beer. The process took time and dedication: hours to prepare the ale, sweep the floors clean and lift heavy bundles of rye and grain. If women couldn't brew ale, they would have significantly more time at home to raise their children. In the 1500s some towns, such as Chester, England, actually made it illegal for most women to sell beer, worried that young alewives would grow up into old spinsters.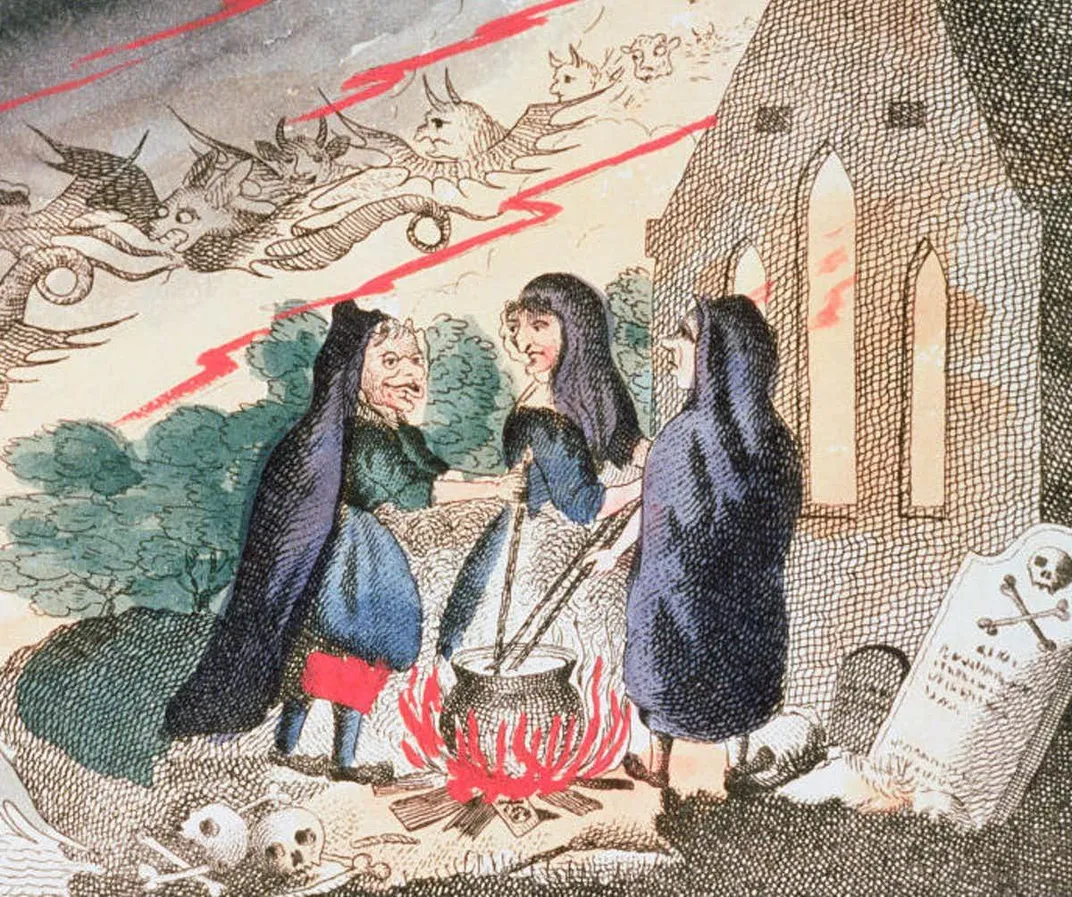 The iconography of witches with their pointy hats and cauldrons has endured, as has men's domination of the beer industry: The top 10 beer companies in the world are headed by male CEOs and have mostly male board members.
Major beer companies have tended to portray beer as a drink for men. Some scholars have even gone as far as calling beer ads "manuals on masculinity."
This gender bias seems to persist in smaller craft breweries as well. A study at Stanford University found that while 17 percent of craft beer breweries have one female CEO, only 4 percent of these businesses employ a female brewmaster—the expert supervisor who oversees the brewing process.
It doesn't have to be this way. For much of history, it wasn't.
Editor's note, March 10, 2021: This article has been updated to acknowledge that it isn't definitively known whether alewives inspired some of the popular iconography associated with witches today. It has also been updated to correct that it was during the Reformation that accusations of witchcraft became widespread.
This article was originally published on The Conversation. Read the original article
Audrey Childers is a published author, blogger, freelance journalist and an entrepreneur with over a decade of experience in research and editorial writing. She is also the creator and founder of the website the hypothyroidismchick.com. Where you can find great tips on everyday living with hypothyroidism. She enjoys raising her children and being a voice for optimal human health and wellness. She is the published author of : A survivors cookbook guide to kicking hypothyroidism booty, Reset your Thyroid, Hypothyroidism Clarity, A survivors cookbook guide to kicking hypothyroidism booty: the slow cooker way, Hypothyroidism: The Beginners Guide: How to stop surviving and start thriving.
and Secrets to my Hypothyroidism Success:: A Personal Guide to Hypothyroidism Freedom. You can find all these books on Amazon. You can also find her actively involved in her Facebook Group : Healing Hypothyroidism. This blog may be re-posted freely with proper attribution, author bio, and this copyright statement.
You can always click on this Facebook group and order my books too. A Survivors Cookbook Guide to Kicking Hypothyroidisms Booty.
Disclaimer
The information and recipes contained in blog is based upon the research and the personal experiences of the author. It's for entertainment purposes only. Every attempt has been made to provide accurate, up to date and reliable information. No warranties of any kind are expressed or implied. Readers acknowledge that the author is not engaging in the rendering of legal, financial, medical or professional advice. By reading this blog, the reader agrees that under no circumstance the author is not responsible for any loss, direct or indirect, which are incurred by using this information contained within this blog. Including but not limited to errors, omissions or inaccuracies. This blog is not intended as replacements from what your health care provider has suggested. The author is not responsible for any adverse effects or consequences resulting from the use of any of the suggestions, preparations or procedures discussed in this blog. All matters pertaining to your health should be supervised by a health care professional. I am not a doctor, or a medical professional. This blog is designed for as an educational and entertainment tool only. Please always check with your health practitioner before taking any vitamins, supplements, or herbs, as they may have side-effects, especially when combined with medications, alcohol, or other vitamins or supplements. Knowledge is power, educate yourself and find the answer to your health care needs. Wisdom is a wonderful thing to seek. I hope this blog will teach and encourage you to take leaps in your life to educate yourself for a happier & healthier life. You have to take ownership of your health. The highlighted links are affiliate links in my blogs.
We will protect our children from a world that wants to commoditize humanity. This Age of Darkness is a collective dark matter perpetrated upon our souls. Humanity's history has brought us to this very moment in time. This is a time of revelation, where the light will be forced onto the darkness. We must pick up our swords and fight this battle for future generations. You are part of a band of warriors coming forward that see through the veil of illusions. Our silence has been broken, and our voices must be heard. Each of us has a unique part to play, and we must remind humanity before it is lost and restore Mother Earth to her natural ways. Control the masses through manipulating industry, education, electronic devices, social media, and politics and divert their attention to what is happening behind closed doors. We must be vigilant in protecting our children's health and future generations.
The Awakened Mama Bear Warrior: Save Our Children
There is a war raging against humanity and our earth. We have been passively indoctrinated and so utterly pre-programmed that we do not ask the questions that need to ask. We have laid our trust completely in those in power or someone with a title behind their name. People conditioned blindly believing in things simply because enough people assured us it was true. Infectious diseases have been irradiated but chronic diseases are the new black plague of our modern time. This book is profoundly personal as it represents a mission brimming with meaning. As I reflect on extraordinary truths about our nation's health history, current, and future, I also offer you wisdom, knowledge, and understanding. We must stop the atrocities if we want to become a healthier nation in the future. We must stop the atrocities if we want the human race to survive. I hope my voice and advocacy will continue to help lead the way and this book will make changes for current and future generations to come. No, I simply do not have all the answers but I have written plenty in this book to make you start questioning EVERYTHING.
What you are about to discover is terrifying.
The HypothyroidismChick's Protocol: How I beat Hypothyroidism and Hashimoto's using clean Keto principles and Holistic functional Medicine
The Keto Autoimmune Protocol Healing Book for Women: Strengthen Your Immunity, Fight Inflammation and Love Your Incredible Body
Throughout my latest book, you will find useful, informative and easy to understand recipes for your mind, body and spirit. When I started writing this book, I wanted to introduce you to the idea of a cleaner less toxic world and for you to learn just how simply easy it is for you to start creating your own cleaning recipes throughout your home but this book has transformed into so much more than just a book full of all natural DIY recipes.
This book will enlighten you and help you have a deeper understanding of not only why you should be more aware but how to be more aware.