We must protect our children from those who want to commoditize humanity.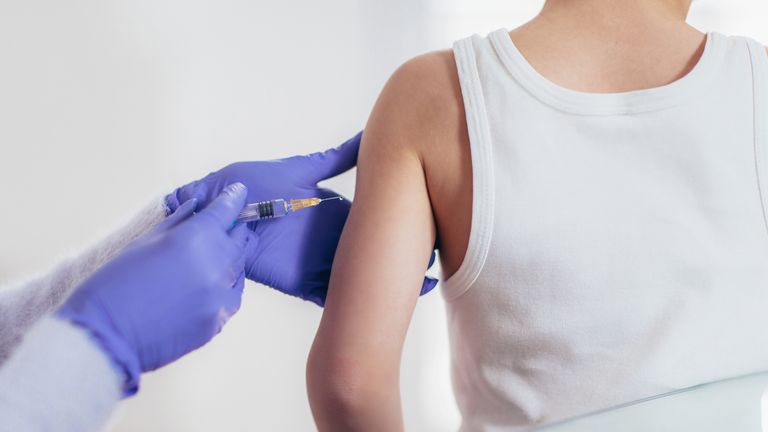 Before you even start reading this article, I want you to understand this.
These companies are protected from lawsuits and they have caused death along with injury. Vaccine courts have paid out over 4 billion in injury lawsuits.
Look at Pfizer's record.
Pfizer has the largest fraudulent track record in U.S. History. They have paid out the largest fine in history as a 2.3 billion plea deal for misleading the public. Along with billions of dollars in bribing doctors. This also includes racketeering and fraud. They were found in violation of the Nordberg code when they were using Nigerian children as guinea pigs without the parents consent.
The trial conducted at Oxford University and its partner sites is the first to assess the jab's efficacy in children aged 6-17.
Children as young as six will be given the Oxford/AstraZeneca vaccine as part of a new clinical trial to test its efficacy in youngsters.
Researchers will use 300 volunteers to assess whether the coronavirus vaccine will produce a strong immune response in children aged between six and 17.
Covid-19 vaccines are set to be tested on children and potentially even newborns.
AstraZeneca, which produces the Oxford vaccine, says it is expanding trials to children as young as six, and The Mail on Sunday can reveal that fellow vaccine maker Janssen, part of Johnson and Johnson, is now looking into testing on newborn babies and even pregnant women.
Janssen last month revealed trials in adults showed its single-dose Covid vaccine is 66 per cent effective in preventing coronavirus.
The trial will begin this weekend at Oxford University and its partner sites in London, Southampton and Bristol.
The Oxford jab is one of three to have been approved for use in adults in the UK, along with those from Pfizer/BioNTech and Moderna.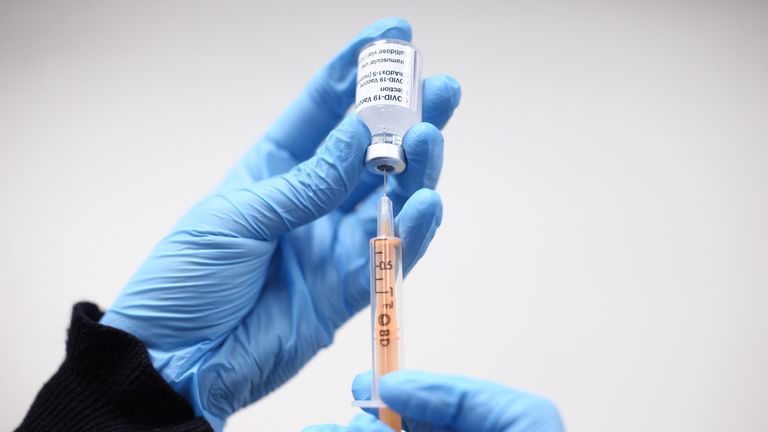 Professor Andrew Pollard, chief investigator on the Oxford vaccine trial, said: "While most children are relatively unaffected by coronavirus and are unlikely to become unwell with the infection, it is important to establish the safety and immune response to the vaccine in children and young people as some children may benefit from vaccination.Advertisement
"These new trials will extend our understanding of control of SARS-CoV2 to younger age groups."
The UK has ordered 30 million doses of the Janssen jabs and deliveries are expected to arrive in the second half of this year if the vaccine is approved by regulators.
It will initially extend trials to teenagers.
Dr Grace Li, clinical research fellow from the Oxford Vaccine Group, told Sky News: "We going to give them doses either one month or three months apart, and we're hoping to look to see which interval gives the best immune response."
Dr Li said they were hoping to take five blood tests over 12 months to see how long the immune response lasts.
Up to 240 children will receive the vaccine and the others will get a control meningitis jab.
England's deputy chief medical officer Professor Jonathan Van-Tam has previously said several trials are under way to develop vaccines that are safe and effective in children.
He added it was "perfectly possible that we will have some licensed children's vaccines for COVID-19 by the end of the year".
Hanneke Schuitemaker, who is head of viral vaccine discovery at Janssen, said discussions had begun to approve studies into the vaccine's effects on 16 and 17-year-olds and after that 'we will go further down to 12-year-olds but even to newborns at a certain point if all goes well'.
The Royal College of Paediatrics and Child Health says there is evidence COVID-19 can cause death and severe illness in children, but that this is rare.
It said: "In children, the evidence is now clear that COVID-19 is associated with a considerably lower burden of morbidity and mortality compared to that seen in the elderly.
"There is also some evidence that children may be less likely to acquire the infection. The role of children in transmission, once they have acquired the infection, is unclear, although there is no clear evidence that they are any more infectious than adults."
Rinn Song, paediatrician and clinician-scientist at the Oxford Vaccine Group, said: "The COVID-19 pandemic has had a profound negative impact on the education, social development and emotional well-being of children and adolescents, beyond illness and rare severe disease presentations.
"It is therefore important to collect data on the safety and the immune response to our coronavirus vaccine in these age groups, so that they could potentially benefit from inclusion in vaccination programs in the near future."
More than 14 million people have now had their first COVID-19 vaccine, meaning the government is within touching distance of hitting its target of 15 million by Monday.
The government and the NHS have now launched a new vaccine uptake plan, urging anyone eligible for the jab who has not yet had one to come forward.
Over-70s, care home residents and staff, health and care workers and clinically extremely vulnerable patients have now all been given the opportunity to get a vaccine.
We are in an age of unprecedented censorship. The freedom of speech seems to of completely disappeared on planet earth. Thousands upon thousands of Websites, documentaries, interviews and programs from doctors and scientist has been removed or DE-platformed from internet access.
The media is one of the most powerful entities on earth along with Google, Facebook, Twitter, and Youtube. These entities have the power to make the guilty look innocent and the innocent guilty. They have figured out a way to control the minds of the masses and in such a cleaver way that people don't realize the manipulation. Nor do the masses realize that they are loving the oppressor's and hating the oppressed. We have seen with our own eyes just how twisting they can be with the information to fit their agenda. They have made criminals look like victims and the victims portrayed as criminals.
There is a disinformation campaign that has taken over American and the entire globe. The National Institute of Health currently as its policy recommendation for patients with Covid19 stating that unless you are in the hospital requiring oxygen that there is no treatment available for you. This is a complete falsehood. In most of the world especially 1st world countries there is treatment available for you. The issue now is trying to find a to prescribe it because they have been threatened . Hydroxychroquine, Ivermectin and Budesonide.
We must understand the magnitude of a lie to begin to understand the sinister deception.
"There is utterly unfounded public hysteria driven by the media and politicians, it's outrageous, this is the greatest hoax ever perpetrated on an unsuspecting public," said Hodkinson.

The doctor said that nothing could be done to stop the spread of the virus besides protecting older more vulnerable people and that the whole situation represented "politics playing medicine, and that's a very dangerous game."

"Masks are utterly useless. There is no evidence base for their effectiveness whatsoever," he said.
"Paper masks and fabric masks are simply virtue signaling. They're not even worn effectively most of the time. It's utterly ridiculous. Seeing these unfortunate, uneducated people – I'm not saying that in a pejorative sense – seeing these people walking around like lemmings obeying without any knowledge base to put the mask on their face."
The doctor also slammed the unreliability of PCR tests, noting that "positive test results do not, underlined in neon, mean a clinical infection," and that all testing should stop because the false numbers are "driving public hysteria."
In a stunning development, a former Chief Science Officer for the pharmaceutical giant Pfizer says "there is no science to suggest a second wave should happen." The "Big Pharma" insider asserts that false positive results from inherently unreliable COVID tests.
There are no long term studies for us humans. We are the experiment. We are the lab rats and guinea pigs on a world wide massive scale. This vaccination is problematic in terms of health, morality and ethics, but also in terms of genetic damage which, unlike the damage caused by previous vaccines, will be irreversible and irreparable. There is no detoxing this vaccine-ever. You will have to live with the consequences because you will no longer be able to be cured simply by removing toxins from the human body, just like a person with a genetic defect like Down syndrome, Klinefelter syndrome, Turner syndrome, stopping genetic heart disease, hemophilia, cystic fibrosis, Rett syndrome, etc.), because the genetic defect is eternal! This clearly means: if a vaccination symptom develops after an mRNA vaccination, no one on this planet will be able to help you, as the damage caused by this vaccination will be genetically irreversible.
This vaccine will be using a modified RNA or a modified DNA. Why is this important to know? Because it can alter our DNA or Genome. Well, our DNA or Genome is what makes us HUMAN. It separates us from the rest of the animals and plants in the world. It's the blueprint for what creates us, how we preproduce, how we function, how we repair and how we evolve. Therefore one little change, one little protein taken out can create a genital defect or a hereditary disorder. Any small change can be devastating to us humans. They are wanting to use this technology and part of this technology is called TRANSFECTION. TRANSFECTION is the same technology that is being used to make a genetic modified organism.
This vaccine also makes a few things happen within your body. Antibody dependent enhancement, immune enhancement or pathogenetic priming. What this means is instead of really causing our body to have immunity. It will cause our body to overreact in a negative way if they should ultimately be exposed to the virus. The biggest problem with Antibody dependent enhancement is they have seen this with prior corona virus vaccines. When the study with Sars code 1 vaccine back in 2005. They created a vaccine and gave it to ferrets and it was a two dose system just like the ones they are giving out today. The ferrets did fine after both doses but later they exposed them to the Sars code 1 virus in the wild and they all died. This is why this vaccine never came to market per http://www.aflds.com.
There is a really important process that sometimes when you rev up your immune system you start making bad antibodies. so, as I explained earlier that when you get the virus itself instead of helping you. You are more likely to suffer very bad consequences because you had the vaccine. This is a very known thing. This is why we dont have any vaccines for the cold virus because it is called pathogenetic priming. it basically means the antibody's you make will make you more likely to suffer when you actually get the virus.
Think about this.
How would someone change a society?
You simply go after the next generation.
In this book, I have done an intensive job of investigative work where you will learn the current profit environment in the many aspects of the American healthcare industry, the Food Industry, and the Chemical industry. This is not only currently harmful to us but for future generations to come.
You will also learn how Americans deliberately are Being Poisoned for Profit and perhaps finally be able to see the Price Tag Stapled to our ears. We are just disposable pawns in their game of chess.
The industry for profit over people is mean, nasty, greedy, and sinister. Everything I feared is true.
There is a war raging against humanity and our earth. We have been passively indoctrinated and so utterly pre-programmed that we do not ask the questions that need to ask. We have laid our trust completely in those in power or someone with a title behind their name. People conditioned blindly believing in things simply because enough people assured us it was true. Infectious diseases have been irradiated but chronic diseases are the new black plague of our modern time. This book is profoundly personal as it represents a mission brimming with meaning. As I reflect on extraordinary truths about our nation's health history, current, and future, I also offer you wisdom, knowledge, and understanding. We must stop the atrocities if we want to become a healthier nation in the future. We must stop the atrocities if we want the human race to survive. I hope my voice and advocacy will continue to help lead the way and this book will make changes for current and future generations to come. No, I simply do not have all the answers but I have written plenty in this book to make you start questioning EVERYTHING.
What you are about to discover is terrifying.
The Keto Autoimmune Protocol Healing Book for Women: Strengthen Your Immunity, Fight Inflammation and Love Your Incredible Body
Audrey Childers is a published author, blogger, freelance journalist and an entrepreneur with over a decade of experience in research and editorial writing. She is also the creator and founder of the website the hypothyroidismchick.com. Where you can find great tips on everyday living with hypothyroidism. She enjoys raising her children and being a voice for optimal human health and wellness. She is the published author of : A survivors cookbook guide to kicking hypothyroidism booty, Reset your Thyroid, The Ultimate guide to healing hypothyroidism and A survivors cookbook guide to kicking hypothyroidism booty: the slow cooker way. You can find all these books on Amazon. This blog may be re-posted freely with proper attribution, author bio, and this copyright statement.
Thehypothyroidismchick.com is dedicated to covering health and science news that matters most to our generation. We cover a wide range of stories, but ultimately we are driven by two core values: first, to contribute to our readers' understanding of what is a very complex and constantly changing field of information, and second, to keep in mind the ultimate "smell test" — we want our stories to be the kind of things you talk about at a bar with your friends. Thehypothyroidismchick.com determines coverage based on relevance, clinical significance, and editorial integrity. We give no priority to commercial considerations, and will always clearly distinguish between factual content, commentary, and opinions to avoid misleading readers with institutional propaganda. and speculation.
Disclaimer
The information and recipes contained in blog is based upon the research and the personal experiences of the author. It's for entertainment purposes only. Every attempt has been made to provide accurate, up to date and reliable information. No warranties of any kind are expressed or implied. Readers acknowledge that the author is not engaging in the rendering of legal, financial, medical or professional advice. By reading this blog, the reader agrees that under no circumstance the author is not responsible for any loss, direct or indirect, which are incurred by using this information contained within this blog. Including but not limited to errors, omissions or inaccuracies. This blog is not intended as replacements from what your health care provider has suggested. The author is not responsible for any adverse effects or consequences resulting from the use of any of the suggestions, preparations or procedures discussed in this blog. All matters pertaining to your health should be supervised by a health care professional. I am not a doctor, or a medical professional. This blog is designed for as an educational and entertainment tool only. Please always check with your health practitioner before taking any vitamins, supplements, or herbs, as they may have side-effects, especially when combined with medications, alcohol, or other vitamins or supplements. Knowledge is power, educate yourself and find the answer to your health care needs. Wisdom is a wonderful thing to seek. I hope this blog will teach and encourage you to take leaps in your life to educate yourself for a happier & healthier life. You have to take ownership of your health.
The views and services offered by Thehypothyroidismismchick.com are not intended to be a substitute for professional medical service, but as an alternative for those who are seeking solutions for better health. We do not claim to diagnose, treat, prevent, or cure any disease, but simply help you make physical and mental changes in your own body in order to help your body heal itself. Keep in mind that results may vary, and if you are pregnant, nursing, taking medications, or have a serious condition, you should consult a physician or other appropriate medical professional prior to using any products or information on this site. Thehypothyroidisimchick.com assumes no responsibility for the use or misuse of this material. Your use of this website indicates your agreement to these terms. Our full disclosure, terms of use, and privacy policy.
The information on this site is not intended or implied to be a substitute for professional medical advice, diagnosis or treatment. All content, including text, graphics, images, and information, contained on or available through this website is for general information purposes only. Opinions expressed here are the opinions of the writer. Never disregard professional medical advice or delay seeking medical treatment because of something you have read on or accessed through this website.
This site is designed for educational purposes only and is not engaged in rendering medical advice, legal advice, or professional services. If you feel that you have a medical problem, you should seek the advice of your physician or health care practitioner. For additional information please see Our full disclosure, terms of use, and privacy policy.
Our full disclosure, terms of use, and privacy policy. | thehypothyroidismchick
From my terms of service "License to content: You are receiving one license for personal viewing and implementation of the material in the program. You are in violation of United States copyright laws and contract law if you use the material for any other purpose, including making derivative materials, selling it, sharing it with others who are not program members, training others in the program, displaying it publicly or on the internet, and/or sharing your login credentials. Licenses for these items are available for purchase, starting at $5,000 per license. License is good for one sale to one customer. If you choose to take these actions, you will be notified and billed accordingly, $5,000 per license used. "There's been 36 violations.
Reference:
https://stopmedicaldiscrimination.org/
The Second COVID-19 Shot's Side Effects Are Worth It – The Atlantic
NSF Public Affairs, researchnews@nsf.gov
WHO Memos 1972 explains how to turn vaccines into a means of killing (thebridgelifeinthemix.info)
The Bill Gates Effect: WHO's DTP Vaccine Killed More Children in Africa Than the Diseases it Targeted • Children's Health Defense
How Rockefeller Created the Business of Western Medicine | Acupuncture Santa Monica, Los Angeles, CA (meridianhealthclinic.com)
How John D Rockefeller Medicine killed Natural Cures and Alternative Medicine / Herbal Medicines – YouTube
THE ROOTS OF MODERN MEDICINE – Thrive Spine Center
The Upcoming Luciferase, RNA, DNA Changing Vaccine 4-10-2020 – videobanned.nl
Americans front line doctors-www.aflds.com
America's Frontline Doctors – Empowering patients and physicians with independent, evidence-based medicine.
Top Pathologist Claims COVID-19 Is "The Greatest Hoax Ever Perpetrated On An Unsuspecting Public" | ZeroHedge
Former Chief Science Officer for Pfizer Says "Second Wave" Faked on False-Positive COVID Tests, "Pandemic is Over" – HubPages