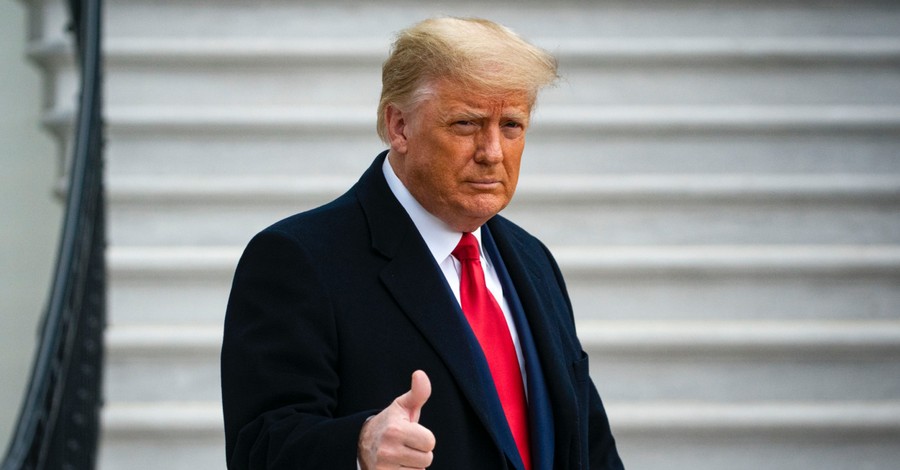 President Trump over the weekend urged Americans to "continue speaking out for those who have no voice" by defending the lives of the unborn, saying "every person is made in the holy image of God."
Trump, in his final National Sanctity of Human Life Day proclamation, said every person – "born or unborn" – is "worthy of respect, protection, and care."
National Sanctity of Human Life Day is observed this year on Jan. 22, the anniversary of the Roe v. Wade decision that legalized abortion nationwide.
"Since the beginning, my Administration has been dedicated to lifting up every American, and that starts with protecting the rights of the most vulnerable in our society — the unborn," the proclamation says. "On National Sanctity of Human Life Day, we promise to continue speaking out for those who have no voice. We vow to celebrate and support every heroic mother who chooses life. And we resolve to defend the lives of every innocent and unborn child, each of whom can bring unbelievable love, joy, beauty, and grace into our Nation and the entire world."
Trump's proclamation laments the "constitutionally flawed" Roe v. Wade decision, which it says "has resulted in the loss of more than 50 million innocent lives." The proclamation also celebrates a decline in support for abortion according to public polls.
"But strong mothers, courageous students, and incredible community members and people of faith are leading a powerful movement to awaken America's conscience and restore the belief that every life is worthy of respect, protection, and care," the proclamation says. "Because of the devotion of countless pro-life pioneers, the call for every person to recognize the sanctity of life is resounding more loudly in America than ever before. Over the last decade, the rate of abortions has steadily decreased, and today, more than three out of every four Americans support restrictions on abortion.
"… Today, I call on the Congress to join me in protecting and defending the dignity of every human life, including those not yet born. I call on the American people to continue to care for women in unexpected pregnancies and to support adoption and foster care in a more meaningful way, so every child can have a loving home. And finally, I ask every citizen of this great Nation to listen to the sound of silence caused by a generation lost to us, and then to raise their voices for all affected by abortion, both seen and unseen."
The proclamation also lists the Trump administration's accomplishments in defending the unborn, including his appointment of federal judges and his recently signed "Executive Order on Protecting Vulnerable Newborn and Infant Children."
"Since my first day in office, I have taken historic action to protect innocent lives at home and abroad," the proclamation says. "I reinstituted and strengthened President Ronald Reagan's Mexico City Policy, issued a landmark pro-life rule to govern the use of Title Ten taxpayer funding, and took action to protect the conscience rights of doctors, nurses, and organizations like the Little Sisters of the Poor. My Administration has protected the vital role of faith-based adoption. At the United Nations, I made clear that global bureaucrats have no business attacking the sovereignty of nations that protect innocent life. Just a few months ago, our Nation also joined 32 other countries in signing the Geneva Consensus Declaration, which bolsters global efforts to provide better healthcare to women, protect all human life, and strengthen families."
By "restoring a culture of respect for the sacredness of life," Trump says in the proclamation, America can solve "our country's most pressing problems."
"When each person is treated as a beloved child of God, individuals can reach their full potential, communities will flourish, and America will be a place of even greater hope and freedom," it says.
Read the full proclamation here.
Audrey Childers is a published author, blogger, freelance journalist and an entrepreneur with over a decade of experience in research and editorial writing. She is also the creator and founder of the website the hypothyroidismchick.com. Where you can find great tips on everyday living with hypothyroidism. She enjoys raising her children and being a voice for optimal human health and wellness. She is the published author of : A survivors cookbook guide to kicking hypothyroidism booty, Reset your Thyroid, The Ultimate guide to healing hypothyroidism and A survivors cookbook guide to kicking hypothyroidism booty: the slow cooker way. You can find all these books on Amazon. This blog may be re-posted freely with proper attribution, author bio, and this copyright statement.
Thehypothyroidismchick.com is dedicated to covering health and science news that matters most to our generation. We cover a wide range of stories, but ultimately we are driven by two core values: first, to contribute to our readers' understanding of what is a very complex and constantly changing field of information, and second, to keep in mind the ultimate "smell test" — we want our stories to be the kind of things you talk about at a bar with your friends. Thehypothyroidismchick.com determines coverage based on relevance, clinical significance, and editorial integrity. We give no priority to commercial considerations, and will always clearly distinguish between factual content, commentary, and opinions to avoid misleading readers with institutional propaganda. and speculation.
The Keto Autoimmune Protocol Healing Book for Women: Strengthen Your Immunity, Fight Inflammation and Love Your Incredible Body
Disclaimer
The information and recipes contained in blog is based upon the research and the personal experiences of the author. It's for entertainment purposes only. Every attempt has been made to provide accurate, up to date and reliable information. No warranties of any kind are expressed or implied. Readers acknowledge that the author is not engaging in the rendering of legal, financial, medical or professional advice. By reading this blog, the reader agrees that under no circumstance the author is not responsible for any loss, direct or indirect, which are incurred by using this information contained within this blog. Including but not limited to errors, omissions or inaccuracies. This blog is not intended as replacements from what your health care provider has suggested. The author is not responsible for any adverse effects or consequences resulting from the use of any of the suggestions, preparations or procedures discussed in this blog. All matters pertaining to your health should be supervised by a health care professional. I am not a doctor, or a medical professional. This blog is designed for as an educational and entertainment tool only. Please always check with your health practitioner before taking any vitamins, supplements, or herbs, as they may have side-effects, especially when combined with medications, alcohol, or other vitamins or supplements. Knowledge is power, educate yourself and find the answer to your health care needs. Wisdom is a wonderful thing to seek. I hope this blog will teach and encourage you to take leaps in your life to educate yourself for a happier & healthier life. You have to take ownership of your health.
The views and services offered by Thehypothyroidismismchick.com are not intended to be a substitute for professional medical service, but as an alternative for those who are seeking solutions for better health. We do not claim to diagnose, treat, prevent, or cure any disease, but simply help you make physical and mental changes in your own body in order to help your body heal itself. Keep in mind that results may vary, and if you are pregnant, nursing, taking medications, or have a serious condition, you should consult a physician or other appropriate medical professional prior to using any products or information on this site. Thehypothyroidisimchick.com assumes no responsibility for the use or misuse of this material. Your use of this website indicates your agreement to these terms. Our full disclosure, terms of use, and privacy policy.
The information on this site is not intended or implied to be a substitute for professional medical advice, diagnosis or treatment. All content, including text, graphics, images, and information, contained on or available through this website is for general information purposes only. Opinions expressed here are the opinions of the writer. Never disregard professional medical advice or delay seeking medical treatment because of something you have read on or accessed through this website.
This site is designed for educational purposes only and is not engaged in rendering medical advice, legal advice, or professional services. If you feel that you have a medical problem, you should seek the advice of your physician or health care practitioner. For additional information please see Our full disclosure, terms of use, and privacy policy.
Our full disclosure, terms of use, and privacy policy. | thehypothyroidismchick